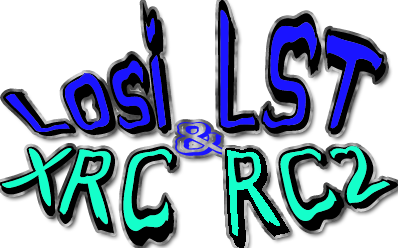 Kupios RC
Radio Gear
Eurgle 2.4Ghz 3Ch Digital Programmable LCD Wheel Radio Gear (with Fail Safe Function) (3rd Generation) With two Eurgle 2.4Ghz 3 Channel RC Digital Receiver with Failsafe (3rd Generation)
My first impressions of this controller were a bit shocking tbh as its a tad heaver than my Losi controller the other thing that did shock me was that the wheel moves out at a angle witch was not shown or said about on the website's info of this controller, I got two receivers one for my Losi LST & the other for my XRC-RC2 both fitted easily & both binded with no hassle the only down side i have found at this moment is using two or more receivers is that you have to switch between models manually. This has a fail safe built in to it this also was easy to set up compared to the silly micro fail safe i had for the losi that had a doggy button & worked when it wanted to.
The feel of the controller is nice (as plastic goes) the buttons are nice & smooth same as the directional wheel for the menu, the wheel its self is smooth & responsive as it should be.
They say its full range however i have only tested it to about 100 meteres.
Before i do a full test on the controller i need a kill switch for the XRC & a new server saver for the Losi so untill then this is it of the review.
Eurgle 2.4Ghz 3Ch Digital Programmable LCD Wheel Radio Gear (with Fail Safe Function) (3rd Generation)
Features:
Full range 2.4GHz 3-channel radio
Multi-data computerized Display 128*64 LCD
8-Model Memory
8 Models Select
Integrated timer
Contrast Adjustment
ABS System
Throttle cut
Computer Programmable
Digital Control
Specification:
Transmitter : 2.4GHz
Mode Type : Car / Boat
RF Power : Less than 20dbm / 0.8W
Modulation : FM / GFSK
Code Type : Digital
Sensitivity: 1024
LCD: 128*64 dot
Low Voltage Warning: Yes
DSC Port : Yes (3.5mm)
Radio Weight : ~558g
Receiver Weight : ~5.5g
Packing Weight : 990g

Eurgle 2.4Ghz 3 Channel RC Digital Receiver with Failsafe (3rd Generation)
Features:
Failsafe Compatible.
Full Range 2.4GHz 3-channel Radio.
Perfect performance even for RC boats!
Light, Compact and Reliable!
Accurate Reception.
Specification:
Frequency : 2.4Ghz
Compatibility : 3rd Generation Radio Gear
Operating Voltage Range : 4.8-6v
Operating Current : 30mA
Code Type : Digital
Sensitivity: 1024
Latency : 22ms
Dimension : L35 x W22 x H13mm
Net Weight : 5.5g
Cross Weight : 24g