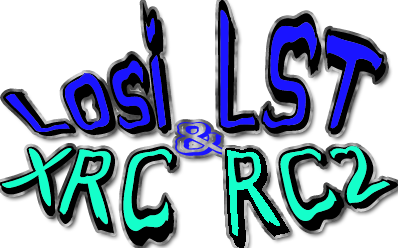 Kupios RC
This is my rc collection it ranges for 1/10 upto 1/5 scale powered by Electric, Nitro & Petrol.
My Losi LST
My Losi LST has been upgraded with a new PT2803A-P6
.28 Pro, Lower A-arm with upper wishbone Blue aluminum
front & Rear the rest of the truck is standard. so far i have replaced the steering servo's & the side rails due to a crash. I have also made a fiberglas shell from the original shell that came with the truck, this is still work in progress as all i need to do now is make a battery box so i can wire up the front & rear light with break light & blue fog lights & also wire up the underbody neon's, the full progress can be found with the Project link

XRC RC2
Now my XRC RC2 is a diffrent kettle of fish the main factor
is its a 1/5 Scale with a 23 cc petrol engine.
My Radio Gear
Eurgle 2.4Ghz 3Ch Digital Programmable LCD Wheel Radio Gear (with Fail Safe Function) (3rd Generation) With two Eurgle 2.4Ghz 3 Channel RC Digital Receiver with Failsafe (3rd Generation)
Top Cat! The most effectual Top Cat! Who's intellectual close friends get to call him T.C., providing it's with dignity. Top Cat! The indisputable leader of the gang. He's the boss, he's a pip, he's the championship. He's the most tip top, Top Cat.
Just the good ol' boys, never meanin' no harm. Beats all you've ever saw, been in trouble with the law since the day they was born. Straight'nin' the curve, flat'nin' the hills. Someday the mountain might get 'em, but the law never will. Makin' their way, the only way they know how, that's just a little bit more than the law will allow. Just good ol' boys, wouldn't change if they could, fightin' the system like a true modern day Robin Hood.
I never spend much time in school but I taught ladies plenty. It's true I hire my body out for pay, hey hey. I've gotten burned over Cheryl Tiegs, blown up for Raquel Welch. But when I end up in the hay it's only hay, hey hey. I might jump an open drawbridge, or Tarzan from a vine. 'Cause I'm the unknown stuntman that makes Eastwood look so fine.